Seriously!?! How can it be July already!!! How time flies when you are having fun…
Welcome to the Close To My Heart Stamp of the Month Blog Hop!
This month we are featuring the July SOTM from the 2011 Spring/Summer Idea Book, which is D1458 American Celebration, a set of 12 My Acrylix Stamps. If you have come here from Adeline's Blog, you are on the right path! The blog hop is a great big circle, so you can start here and work your way all around.
This month we have over 60 Close To My Heart Consultants sharing their creations using this month's SOTM and other great CTMH products on their blogs. To join in the fun just click on the link at the end of the post on each blog to move to the next one! Here we go!
***
Well, I thought this would be as good as time as any to officially announce that I am now a new Heart 2 Heart Design Team Member! I am so excited to be joining this wonderfully talented & creative group of women who will be sharing weekly inspiration over at the Heart 2 Heart Challenge Blog. My first official post will go up Monday, July 4th, so be sure to check back here then. I hope you will join me in our weekly challenges and I can't wait to see what you create!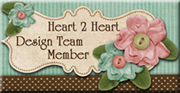 With that in mind, I would like to honor the ladies that are leaving the Heart 2 Heart Design Team in my July Stamp of the Month Blog Hop post by combining this week's H2H Color Challenge AND Mojo Monday sketch with the awesome July Stamp of the Month, American Celebration.
The H2H Color Challenge this week is…
The Mojo Monday sketch this week is…
Combine these two challenges with the July Stamp of the Month and you get this…
My Stamp of the Month artwork recipe includes My Acrylix D1458 American Celebration stamp set; You & Me B&T Duos Paper; Barn Red & Colonial White Cardstock; Barn Red, Indian Corn Blue & Bamboo Exclusive Inks; Designer Ribbon - Blue Collection; Buttons - Blue Assortment & Colonial White Waxy Flax
***
Now that was FUN! Thank you for hopping with me! I hope you enjoyed it as much as I did! =)
Now "Hop" on over to Terrie's Blog to see her fabulous works of art! Be sure to visit all the Consultants at their blogs to get some great crafting ideas and other fun ideas using this month's stamp of the month!
Remember, the July SOTM is only available July 1 - 31, 2011 so get yours beginning July 1st! Psst…you can get it 50% off when you take advantage of July's 'Bang For Your Buck' Campaign…details below!
Click here to shop MyCTMH Website for all your scrapbooking & stamping needs!
Looking for a faster, simpler, easier way to get more scrapbooking done? Then check out our Studio J Online Design Software! Just click on the image below and give it a try today.…
God bless & make it a great day!